Experience Counts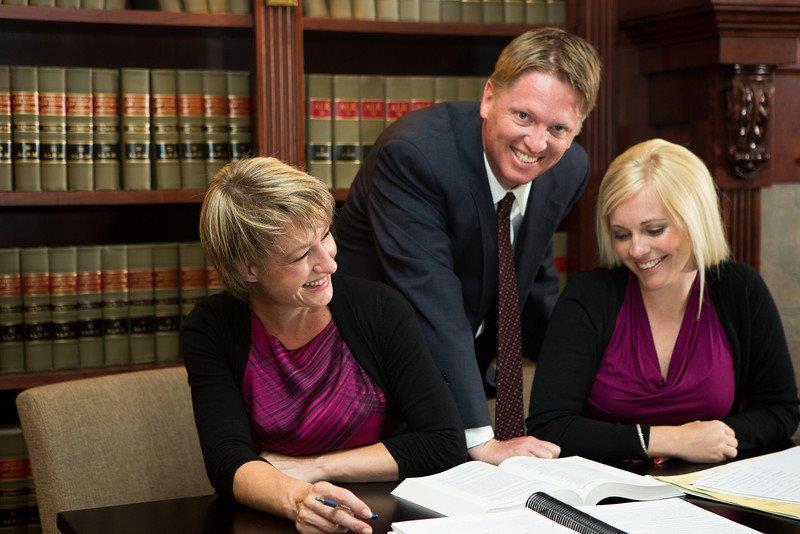 If you need an attorney who knows what it takes to win a trial, whether it's a criminal case or a serious personal injury case, and is familiar with the local courts, judges, prosecutors and insurance defense counsel, you need to retain an attorney at the Law Offices of Pettlon & Ginie.
Our firm has handled hundreds of criminal defense and personal injury cases successfully in Kansas and Missouri since early 1994. From our offices in Olathe, we serve people in Kansas and Missouri state courts, municipal courts and federal courts.
Experience counts. Let our skilled lawyers help you deal with your criminal defense or personal injury issues. Contact us online or call (913) 393-2100 to schedule your free initial consultation.
Zealous Pursuit of Justice in Personal Injury Cases
Actual results matter – Any personal injury attorney can settle your case and unless they are prepared and have a reputation for aggressively representing clients in jury trials, they may settle your case for substantially less than it is worth. Don't hire an attorney based on the size of their ad or their billboard. Actual results matter.
After jury trials, Trey won the largest verdict in Clay County, Missouri in one year, and then won one of the largest verdicts in Missouri in another year. In 2017 Trey was selected for the second straight year to the "Nation's Top 1%" by the National Association of Distinguished Counsel. Trey is also a member of the Million Dollar Advocates forum based on actual results in personal injury and wrongful death cases. The organization was formed in 1993 and there are approximately 4000 members in the country. Fewer than 1% of U.S. lawyers are admitted. Ryan and Trey have recovered millions of dollars in damages in court for their clients!
If you have suffered injuries ranging from broken bones to paralysis to brain injury, burns, scarring or other serious injury due to the negligence of another, our personal injury lawyers can help you obtain compensation for your medical bills, lost income, pain and suffering, and loss of enjoyment of life. We have obtained payment for clients who sustained life-threatening burns, gunshot wounds, permanent disfigurement and brain damage caused in a variety of negligent or reckless accidents.
Serious motor vehicle accidents

Car accidents
Truck accidents
Motorcycle accidents
Bicycle and pedestrian accidents

Explosions and burns
Psychiatrist malpractice
Wrongful death
If you have an important case, come speak with an experienced trial lawyer whose primary objective is to get the best results for you. Whether we are negotiating with an insurance adjuster or a prosecutor, trying your case to a jury or arguing before a judge, we will do everything we can to effectively protect your rights and interests. We are attorneys who will take your case as far as needed to get the right result.
Skilled Representation for Criminal Defense Matters
Any attorney can work out a plea in your case, but if they don't have a reputation for effectively and aggressively representing clients in jury trials for even the most serious charges, they may very well work out a plea agreement much harsher than you deserve. Both Ryan and Trey have extensive experience defending clients and experience as former prosecutors. So they know both sides.
Our attorneys have won numerous "not guilty" jury verdicts in serious criminal cases including cases where clients face life in prison and charges for rape, Sodomy and others sex offenses, Aggravated Battery, DUI both felony and misdemeanors, Attempted Murder, domestic violence cases and many more. They have won complete dismissal of charges of kidnapping, rape, drug distribution, drug possession, felony theft and many more cases involving a variety of charges even before trial. They have had charges of rape, felony child abuse, involuntary manslaughter and others amended to misdemeanor charges as part of plea agreements for clients. And while the results of each case depend on the facts and the law, and these examples cannot be representative of what might happen in your case, these are actual results and examples that would not have been possible without zealous, experienced, effective criminal defense attorneys.
In their criminal defense practice, Trey Pettlon and Ryan Ginie have achieved numerous not-guilty verdicts before juries in Kansas and Missouri. It takes hard work and talent, but if it can be done in your case, it will be done. If you have a defense, Trey and Ryan have the litigation experience and skills to convince a judge or jury. Our entire firm has a reputation for handling tough cases and getting good results through hard work and trial skills.
DUI
Drug crimes
Sex crimes
Property Offenses and Financial Crimes
Child pornography
Online solicitation
Federal criminal defense
Juvenile criminal defense
Waiver trials and serious felonies
We have the experience as criminal defense attorneys to effectively represent clients charged with even the most serious offenses, including felony offenses such as murder, kidnapping, arson, any sex offense or drug charges, embezzlement, burglary or robbery.
Contact Us Anytime for Help
Contact the Law Offices of Pettlon & Ginie for an experienced trial lawyer to defend you against criminal charges or to handle your personal injury case.
Whatever your situation, we can help. Call our law firm today at (913) 393-2100.
Free Initial Consultation
Credit Cards Accepted
Personal Injury Cases Taken on Contingency Fee Basis
Olathe, Kansas serious personal injury and criminal defense attorneys serving the Kansas City, Kansas, and Kansas City, Missouri area, including cities such as Edwardsville, Leawood, Lenexa, Overland Park, Belton, Bonner Springs, Fairway, Gardner, Gladstone, Independence, Lee's Summit, Liberty, Paola, Parkville, Platte City, Prairie Village, Raytown, Riverside, Roeland Park, Smithville, Shawnee, Spring Hill, Mission, Mission Hills and Merriam.
Johnson County, Wyandotte County, Miami County, Jackson County, Clay County, Platte County