Personal Injury Law Firm Overview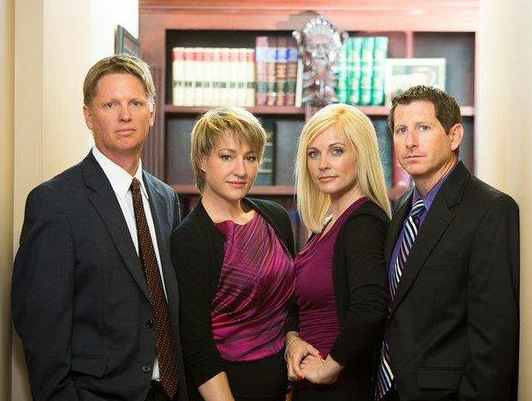 At the Serious Personal Injury Law Offices of Pettlon & Ginie, our practice focuses on just two areas: representing people who have suffered serious personal injury or wrongful death and criminal defense. If you have a case in one of these areas, you need an attorney who has experience and skill in court.
If you need an attorney who knows what it takes to win a trial, whether it's a criminal case or a serious personal injury case, and is familiar with the local courts, judges, prosecutors and insurance defense counsel, you need to retain an attorney at the Law Offices of Pettlon & Ginie.
Our firm has handled hundreds of serious personal injury & criminal cases successfully in Kansas and Missouri since early 1994. From our offices in Olathe, we serve people in Kansas and Missouri state courts, municipal courts and federal courts.
Firm History
Since leaving the Johnson County District Attorney's Office in 1994, Trey Pettlon has had a single desire to help good people through difficult times. The growth of his business has been a tribute to that one desire more than anything else.
In 2005, Ryan Ginie joined the firm and Ryan has continued the tradition of customer service and effective representation for our clients. In 2013, the firm changed from "The Law Offices of N. Trey Pettlon" to "The Law Offices of Pettlon & Ginie."
Along with their trial assistants, Allie Mincks and Danelle Wisdom, our lawyers have formed a winning trial firm capable of representing clients in significant personal injury cases, wrongful death cases which by their very nature involve great loss, and in defense of criminal cases no matter how serious the allegations.
About our Attorneys
Our attorneys, N. Trey Pettlon, III and Ryan S. Ginie, represent clients in all criminal defense and personal injury matters, often taking cases to trial in state or federal courts. Both lawyers are life-long residents of the area.
N. Trey Pettlon, III
Trey specializes as a Trial Lawyer and has many years of experience with Serious Personal Injury, Wrongful Death along with Criminal Defense Law. He has also been selected as a "Super Lawyer" for several consecutive years and has earned several other prestigious nominations including "top 100 attorneys in Kansas" in 2007. Trey is also very proud to be the third-ever Lifetime Member of the Kansas Association of Criminal Defense Lawyers. Since leaving the District Attorneys Office in early 1994, Trey has also been appointed to serve as special prosecutor in Clay County, MO, District Court Judge Pro Tem several times each year, has presided over jury trials and has also served as Municipal Judge for the City of Edgerton from 2009 to 2012.
Learn More About N. Trey Pettlon, III
Ryan S. Ginie
Ryan does primarily criminal defense and has a great deal of experience defending both adults and juveniles who are charged. For several years Ryan gave monthly lectures on juvenile law. He is a member of the Johnson County Bar Association, the Kansas Association of Criminal Defense Lawyers, the Kansas Bar Association, and a sustaining member of the Kansas City Metropolitan Bar Association. Prior to joining the firm, Ryan worked for the Johnson County District Attorney's Office for several years. In 2012 and 2013, Ryan was selected as a "Rising Star" by Super Lawyers.
Additional Attorney Information
Trey grew up in Clay County, Missouri, and attended North Kansas City High School. He went on to law school after graduating from the University of Missouri. While attending Washburn Law School, Trey was very successful in Moot Court and won the chance to argue before Supreme Court Justice Antonin Scalia in New York.
In 1991, Trey became an Assistant District Attorney at the Johnson County DA's Office where he gained invaluable trial experience and the opportunity to meet judges, prosecutors and many of the best attorneys in Kansas City. He left the DA's office in March of 1994 to begin a private practice in criminal defense and representing plaintiffs in serious personal injury cases. Trey has since won numerous verdicts for clients in criminal, wrongful death and personal injury jury trials in Kansas and Missouri.
Trey and Ryan met when Ryan was just in high school and he expressed and interest in becoming a lawyer. After graduating from K-State, Ryan followed his dream to UMKC Law School. While attending law school, Ryan first worked as a clerk at Trey's office and then he had the opportunity to work at the Johnson County District Attorney's Office as a part of DA Paul Morrison's excellent internship program. After graduating from law school and finishing a successful internship with the DA, Ryan was hired as an associate with the Law Offices of N. Trey Pettlon. In his criminal defense practice, Ryan has won both jury and bench trials for many, many clients charged with crimes ranging from serious felonies to misdemeanors such as DUIs, theft or battery.
Trusted Staff
Every law office needs an excellent and reliable staff as well. Dedicated, conscientious paralegals to help with administrative matters, to run the office, schedule hearings, request police reports, accident reports, medical records and other discovery, to schedule appointments, help clients while we are in court and generally free us up so we can effectively represent our clients. Learn more about our paralegals: Allie Mincks and Danelle Wisdom.
Contact Us Anytime for Help
Contact the Law Offices of Pettlon & Ginie for an experienced trial lawyer to defend you against criminal charges or to handle your personal injury case.
Whatever your situation, we can help. Call our law firm today at (913) 393-2100.
Free Initial Consultation
Credit Cards Accepted
Personal Injury Cases Taken on Contingency Fee Basis
Olathe, Kansas serious personal injury and criminal defense attorneys serving the Kansas City, Kansas, and Kansas City, Missouri area, including cities such as Edwardsville, Leawood, Lenexa, Overland Park, Belton, Bonner Springs, Fairway, Gardner, Gladstone, Independence, Lee's Summit, Liberty, Paola, Parkville, Platte City, Prairie Village, Raytown, Riverside, Roeland Park, Smithville, Shawnee, Spring Hill, Mission, Mission Hills and Merriam.
Johnson County, Wyandotte County, Miami County, Jackson County, Clay County, Platte County